An alarming report by the Pakistan Software Houses Association for IT and ITeS (P@SHA) has revealed that after the recent withdrawal of the tax exemptions granted to the IT Industry till 2025, Pakistan has become the worst country for an IT Industry to operate and is lagging behind all major countries in the region. However, India is in the lead with its IT Industry enjoying the most facilities, while Pakistan's number of facilities and benefits has been reduced to zero.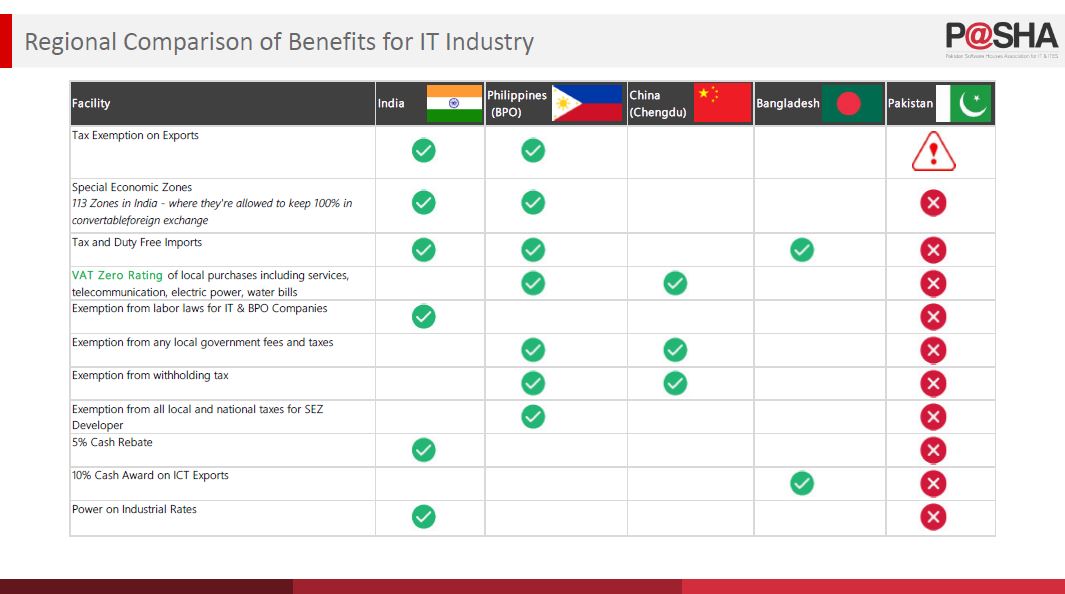 The tweet by P@SHA said, "Tax exemption was the biggest benefit given in Pakistan, and with the recent change in tax regime, it's also been compromised."
The comparison issued by P@SHA evaluated Pakistan's tax benefits against all major countries in the region, including India, China, and Bangladesh. Tax exemptions on exports, special economic zones, Tax, and Duty-free imports, and cash awards were some of the major benefits whose availability in these countries has been highlighted by the P@SHA.
While exhibiting strong concern regarding the government's decision, P@SHA had earlier warned of the tax exemption withdrawal's negative impact on Pakistan's IT exports. "Tax Exemption on IT exports till 2025 is proving to be the only substantial support the IT sector is offered, and replacing it with a complex tax credit regime, filled with additional compliance requirements will negatively impact the IT exports growth trend.", it said, while urging the Prime Minister to take immediate action.
The FBR began identifying individuals and companies availing the tax exemptions/concessions granted under the Income Tax Ordinance 2001, according to reports, as part of a broader crackdown under which show-cause notices to 70,000 individuals were to be issued to collect Rs.10 billion in taxes. Payoneer, the only major international payment gateway functioning in the country, was also targeted.
The move had invited criticism from various IT stakeholders, including members of the IT Industry and the IT Minister himself, who issued multiple statements in this regard.
In the wake of the government's absurd tax policies, even Bangladesh seems to be doing better in terms of tax benefits, with its foreign exchange reserves valued to the tune of $41 billion against Pakistan's $20 billion.
Read More: Pakistani freelancers yet to get PayPal to get tax notices by FBR.