"Silicon Valley" teases Facebook in the opening premiere of season 5
HBO's 'Silicon Valley' season 5 premiered on Monday 25 March and it had a very special message for Facebook regarding the ongoing recent Facebook scandals. Silicon Valley opening credits showed Facebook Logo turning into Russian-style lettering because of Facebook's ongoing fiasco involving Cambridge Analytica, and alleged leaking of information outside the US jurisdiction.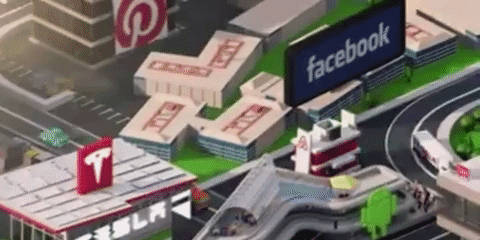 If you blinked you might have actually missed it because it was there for a mini-second, but don't worry we have attached a GIF image to show you exactly what they showed on the premiere of the show. As the screen shows familiar tech giant logos and headquarters of businesses like Pinterest, Airbnb, Uber, Oracle, HP, Intel, Twitter, and YouTube but suddenly you notice that the Facebook logo acting a bit weird. At first, the logo appeared in Russian Cyrillic script lettering in English and the letters spell out to be 'ГДÇЭБФФЖ' of course not in the Russian language, and then the logo of Facebook converts into signature white Klavika font.
Silicon Valley picked up the story where Richard Hendricks (Thomas Middleditch) and his team at the Pied Piper are in making and attempting to deliver a "new Internet." The show is highly rated among the Tech world, as it represents the story of a startup in an incubator working hard in a company that is challenged by big companies like the fictional company 'Hooli'.
Anyhow the first season's episode "Grow Fast or Die Slow," and the clever manipulation of the text in the opening credits of the episode is a clear dig at Facebook. Mark Zuckerberg had finally made an appearance amidst the data breach scandal that has hit Facebook and apologized publicly as well. There has been news of a hashtag to delete Facebook which is trending on Twitter as the social networking website loses $60 billion in value in just 48 hours. Let us see how will Facebook recover from this scandal.
Have you watched the latest episode of "Silicon Valley"? Let us know in the comments below!